Together with my assistant pastor's wife, I dug up old, useless ground and weeds in early April, tilled the soil - which was very, very rich and dark - and watered the ground in anticipation of new sod. When it arrived in the late morning, we remarked at how lovely and green and strong it was. And we laid it down. Ms. D - as we call her, not caring much for calling anyone by two whole names around these parts, even the pastors get the initials - carefully laid the sod and attached the pieces to each other while I merely kept things wet as the sun approached its pinnacle on top of the sky.
And we expected great things
. For once in recent memory, the short parcel of land directly in front of the church would be green, and lush. We would have to mow it twice a week,
it'd grow so large and lush and wonderfully green
. We would match with many of the other properties in our respectable, residential neighborhood. We could begin working on that awful red metal box to the north of our converted office building, the old train box car that functions as both our weight room and eye-blight.
But
, a remarkable thing happened. Or rather, didn't happen. Someone dropped the ball. I don't know who, I'm not sure why. The lawn was watered, but not often enough, and not long enough.
All things may have worked out fine if we had received rains in early May
. Or late May. Or June.
Total accumulation reached nary an inch, though.
By late June, early July, nearly all area grass is an ugly shade of brown. The local high school, which usually caresses a large parcel of land (by Chicago standards) in greenery, has been abdicated by Mother Nature. All that remains is a very shoddy of hay.
I started having nightmares of Arizona
. This afternoon I went to my brother's for the first time since March. I noted the lawn, which, for the most part, was green. He watered the lawn in front and back every day (at least every day they were in town), sometimes twice. But still, there were those patches of light brown dryness.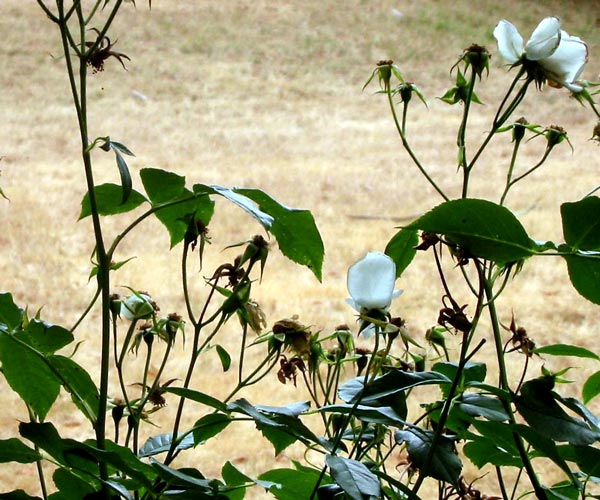 What I learned through this, however, is that
the deeper the roots are
, the more alive the plant is, the more of a chance it has to survive - for
it can draw from more resources
. I've learned that the work of rooting is hard and consistent work, but it is not fully dependent on the worker, it needs the help of the full environment. I've also learned that if those roots aren't in place, it can be easily lifted.
Obviously, I'm not just talking about sod here.
I've always felt separate. My auntie is full-blooded Puerto Rican, but she was raised in the US, in an English-speaking household. She never learned Spanish. But
because she's so dark, when I was a child, I thought she was black. I also thought it a common thing.
I figured that every family had people of different colors in their household, such as my dark brown grandma. My Korean and Turkish neighbors, my Greek and African-American and Jordanian and Mexican and Indian and Eastern Virginian and Guatemalan ("
Watermelon
?" I innocently asked.) classmates and playmates were all part of the cultural and colorful mix. I didn't understand why people were looking strangely at me as I walked with my disheveled, curly head (looking a good five inches larger than it should be) and white skin bedrocked by freckles to the right of Yvonne and her oblivious nervousness (an ordinary trait of hers).
I just figured they were jealous
.
I sometimes wonder if that's not the case.
My exoticness is a license
, I guess, to act a bit different, to be looked at and treated differently. It's only natural, though. A twitch of sorts in contemporary society, something of which everyone, including myself, is somewhat guilty of - self-consciously or not. And, although I don't feel exploited or treated wrong, general comments leave me feeling askew, whether they originate from a friend or no. I'm
in
or
not
because I'm
not
, or because I
am
.
But I think more often, I'm not.