ProPain
is the one album I've been looking forward to buying this summer. It was originally set to be released early in spring by
Gotee Records
. But there were some sample-clearing issues and Gotee wanted to push the record like it does with some of their other acts (Relient K is now on TRL. I didn't even know TRL is on tv anymore You know, like maybe it was on Kiss FM or something.) and/or something else.
But now the records being pushed back even further. And, to top it off, their site's still closed due to tech difficulties.
The news over at
Deepspace 5's site
is that the album was delayed by EMI, the evil distributor, for as-yet undisclosed reasons. In the meantime, listen to two new hots on
their myspace
(sorry, ladies) spot.
L.A. Symphony
, apparently, is supposed to drop a fresh rec in Okt.
And apparently, getting a hold of
Sufjan Steven's
Illinois
is hard to do - especially if you want a cover with Superman flying through Chicago (which I had always
dreamed
of) since DC Comics once again pulled out the cease and desist (just like they did for Capt. Marvel).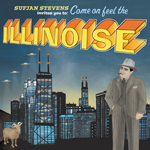 Flash Gordon, where are you? We need you!
5 points for both the references of that quote.



Edit

: And check out their radio interview/performance.